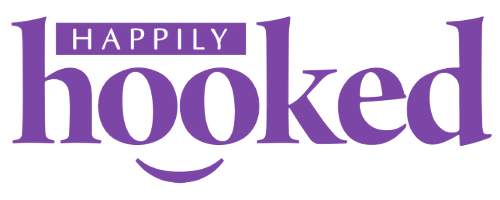 Original Email from CEO Dennis was sent to all members on February 6, 2023.
A second email from Customer Support Manager Cara Louise was sent a few days later.
Both of these message have been included here with some minor edits for clarity.
AN IMPORTANT MESSAGE REGARDING YOUR MEMBERSHIP
Dear Happily Hooked Member,
My name is Dennis, and for 9 years, I've been the owner and leader of Happily Hooked.
During that time, we've had a lot of ups and downs here.
And right now, we're facing the biggest challenge we've ever had.
Happily Hooked is on the verge of having to shut its doors down permanently…
But we're not there yet!
There are a lot of reasons for this, but ultimately, it's because of me. I've failed to navigate this company successfully through the recent economic events of the last two years.
Our goal is to create the happiest place on earth for crocheters.
But behind the scenes, things have not been very happy. Last month I had to make the hard choice of letting go of half of our team.
And now I'm making an even harder choice that will change the face of Happily Hooked forever…
Before I tell you, there are some things you need to know…
First, the publishing industry is broken. Magazines are shutting down each year. And inside the crochet industry, the surviving ones have changed their focus. You've probably noticed the increase in courses and pattern kits being promoted. That's why.
Second, hundreds of thousands of patterns are out in the world — with more produced daily. We've published 2,000 on our own. If a 30-year-old crocheter crocheted 5 different projects a month, they would need to live to 100 to get through just our patterns.
Third, community is where we excel. That's what we do. We CARE. We give crocheters the confidence to try new things and bring them together to make new friends. We're here for their darkest times and biggest wins.
And that's where we are going to focus moving forward.
With that, I'm officially announcing that February will be our last issue of Happily Hooked.
That was the only option that would allow us to keep Happily Hooked around for another 9 years.
Otherwise, we would have to close the doors for good.
We'll announce more about this over the coming days. Starting now, this team is turning its focus to:
Creating more events
Teaching more techniques
Supporting your next project
And creating more fun for you while sharing our love of crochet.
Honestly, we were eventually going to move in this direction. It's something I think has to happen.
I just hate that this is the way we have to do it. I don't believe it's fair to you.
But in desperate times, we must do whatever it takes to survive.
As a wise man once said:
"If you can't fly then run, if you can't run then walk, if you can't walk then crawl, but whatever you do you have to keep moving forward." —MLK Jr.
Please know that through this whole journey, the one thing that this team has focused on is taking care of our members.
You are our #1 priority.
Without you, there is no Happily Hooked.
We have a wide variety of members. Some have been with us for a year, some five years, and some have chosen to be a member for life.
We have created a plan to take care of ALL of our members. (Please see more information below.)
↤↤↤↤↤ . ↦↦↦↦↦
If you have any questions or concerns, email customer support at [email protected] — Cara Louise has been my trusted support ninja for over eight years.
You can reach out to Courtney at any time — she's been here for over eight years, too — email her at [email protected].
Margaret and Christine are also here for you — contact them at [email protected] and [email protected].
If you have something you would like to express to me directly, you can email me at [email protected].
I can't thank you enough for being part of our crochet family, and I appreciate your patience, kindness, and understanding as we navigate these challenging times.
I will do everything in my power to make sure that Happily Hooked stays around.
Thank you,
Dennis
SOME IMPORTANT CLARIFICATION REGARDING YOUR MEMBERSHIP
Short story:
We are not publishing additional issues of the magazines.
Yearly memberships are now just $30/year. Monthly Memberships are also available for $5/month.
VIP (Lifetime) Members, still don't pay ANYTHING more for your existing Membership with Happily Hooked!
VIP Members, your discount to the Happily Hooked store and our courses has been increased to 20% off.
Longer story:
We are not closing the Members Site.
We have not removed anything you already had access to on the Members Site.
All of your content is still accessible to you in your library on the Members Site.
We will still be providing content to you.
We are still planning on continuing the 12 months of Dishcloths project. It will just look a little different!
Each month, we'll be sharing a classic issue from our vault with our Happily Hooked Members! If a member does not already have that issue, access to it will be given on the first day of the month.
OR you can buy all of the past issues at once with our Every Past Issue Ever bundle!
We are not closing the Members Community.
Plus you will be getting a $10 monthly gift card to our new Crochet Warehouse e-com store.
We are sending emails about this regularly.
If you opted out of our emails you won't be getting any new reminders with your monthly code.
More things you need to know:
We do encourage all members to download and save the digital issues on their device, external or cloud storage, or Ravelry.
We have "Whole Enchilada" codes for VIP Members to allow you to save all 204 past issues to your Ravelry account at once- just send an email to [email protected] and ask.
Only current members have access to the Members Site, so a VIP Membership, or Yearly or Monthly membership renewals will be required to continue accessing the content there.
Issues must be saved to your device and/or Ravelry for future access if you cancel your membership.
Cancellation always refers to the end of the already paid term.
There will not be any refunds issued for any past purchase or renewal.
It is a fact of business that changes and reconfigurations must happen from time to time. We aren't exactly thrilled about the changes either.
We are committed to doing our very best for our members, and we expect that you will continue to behave with the kindness, patience, and understanding that you have shown us in the past.
Thank you so much for your patience, kindness, and understanding.
We are so appreciative of fabulous members like you who stick with us!
Your Happily Hooked Team:
Cara Louise, Christine, Courtney, Margaret, and Dennis
PLEASE EMAIL [email protected] IF YOU HAVE ANY QUESTIONS, OR USE THE HELP/CONTACT BUTTON ON THE WEBSITE!